Gigabyte Advanced Laptop Line at Computex 2018
hello everyone meets again with me, on this occasion I will discuss Gigabyte Sophisticated Laptop, just see below.
Sources Images: AORUS X9 DT
Many interesting things in Computex 2018 performances. Like the line of laptops hosted by renowned vendor Gigabyte. He said some are using Intel Core i9!
Even he said, Gigabyte presents laptop with the first Intel Core i7 + platform in the world. Well, more curious about the ranks of this cool laptop?
Gigabyte Advanced Laptop Line at Computex 2018
The first laptop in the spotlight is the latest Gigabyte Saber, which is refined with the Intel Core i7 +. That means the laptop is powered by Intel Gen-8 Coffee Lake processors and Intel Optane technology. This laptop promises high responsiveness.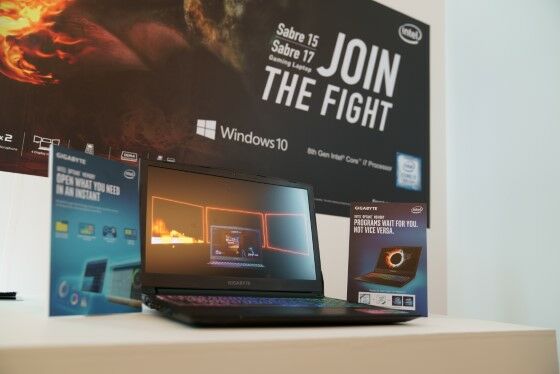 Sources images: Gigabyte Sabre
The good news, this laptop has been officially in Indonesia! But for those in Indonesia, may not have used Intel Core i7 +
The next laptop is Gigabyte AERO. This laptop has stolen the hearts of professionals. How baseball, the features of this laptop is really comfortable to use for design. Examples of screens that have been certified X-Rite Pantone, make the screen color more real.
In this event, Gigabyte shows the Gigabyte AERO version that uses Intel Gen-8 Coffee Lake, which previously still uses Intel Gen-7 Kaby Lake. So you can say this is an upgrade specification
This is the most stolen laptop, god's laptop among the gods, the AORUS X9 DT. Why is that so? Because this laptop using Intel Core i9 and Nvidia GTX 1080. play what game, it certainly can setting ultra with 4K resolution.
But if you feel too wah, there is also a sister that is AORUS X5 and AORUS X7 DT. Although the specifications are lower but still tough. Moreover, all these units turned out to use the screen Nvidia G-Sync 144Hz X-Rite Pantone. Wow, this is gaming to the max!
The final word
That's the line of sophisticated laptops from Gigabyte at Computex 2018. What do you think, between Gigabyte Saber and Gigabyte AERO and AORUS, which one best suits your style? Share your thoughts in the comment field yes! Thanks.